Everlasting Moon - 1204 George Lotson Avenue
We're centrally located to the Beaches and Village Area - off Mallery St within walking distance of the Village. We offer all one level living.


THE SPACE

Living space is an open family room to the kitchen and dining areas. The family room offers a large screen smart TV 2 and two side chairs and a queen size sleeper sofa.

Kitchen is nicely equipped with a single serve coffee maker, plenty of pots, pans, blender and baking sheets.

Bedroom Layout: Primary Bedroom is first down the hall. It has a king size bed, adjoining bathroom with a separate shower, jetted tub and two sinks.

Across the hall is a shared guest bathroom with a single sink and combination tub/shower. At the end of the hall are two additional guest bedrooms. One has a queen size bed. Second guest bedroom has a full-size bed and twin single size bunk beds. All bedrooms have smart TV's

Located in the side court yard is a 12 X 28 inground pool. The outside cabana features a toilet closet, sink and small beverage refrigerator.


We supply a starter supply of bath soaps, laundry detergent and dish detergent.
Linens and bath towels provided.


Located on the south end of the Island, St. Simons Pier Village district serves as the downtown social hub and is a popular destination for shopping, dining and gathering on the pier and nearby lighthouse, playground and picnic areas. Overlooking the ocean and Jekyll Island across the way, you'll find the St. Simons Lighthouse and Museum, Neptune Park with its ocean side pool and facilities, playground, miniature golf course, and an oak shaded picnic area, fishing pier, public library and theater.


MORE INFO

Pets: This home is dog friendly for dogs 25lbs or less with $250 pet fee, 2 dogs max. Unfortunately we can't host breeds known to insurance carriers as 'vicious', please ask if you're not sure.

Heated Pool: This property offers a heated pool option. The cost is $75/night+tax and can be added up to 48 hours before arrival. Let us know if you'd like to heat the pool!

No Smoking: No smoking is allowed in the home, on the porches/patios/decks, or on the property in general

No Events: No events or parties. No overnight guests beyond the original booking group.

Booking Policy: Unfortunately we can't host reservations that create 1-2 night gaps.

Tax Certificate: #126822




ABOUT LIGHTHOUSE VACATIONS

Our property manager Lighthouse Vacations is just a few blocks away if you need anything.
Refrigerator
Microwave
Air Conditioning
Kitchen
Heating
Essentials. Towels, bed sheets, soap, and toilet paper
Carbon Monoxide Detector
Smoke Detector
Private Entrance
Satellite or Cable
Television
Coffee Maker
Cooking basics. Pots and pans, oil, salt and pepper
Near Ocean
Dryer
Hair Dryer
Linens Provided
Washer
Shampoo
Disinfectant is used when cleaning the property
High-touch surfaces cleaned with disinfectant (like countertops,
Enhanced cleaning practices are used
Contactless check-in and checkout is available
Wifi
Wifi speed (25+ Mbps)
Deck/Patio
Heated Pool
Private Pool
Single Level Home
Thank you for submitting your review. It will be processed shortly!
House had a comfortable relaxing feeling about it. We felt right at home!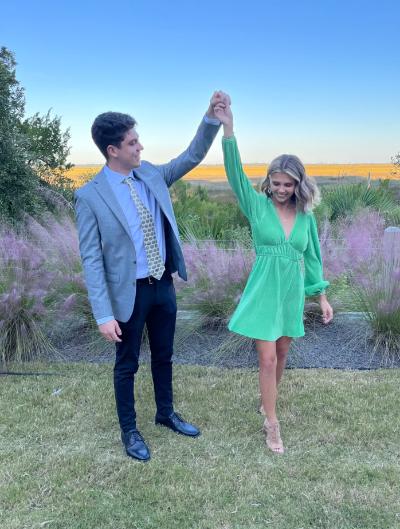 Thanks for posting this review and photo from you guys at Muscgrove Retreat dancing at a wedding!
Home ocated in a very quiet neighborhood that was within walking distance to many restaurants and shops. The beautiful East Beach is less than a five-minute drive away. Three vehicles can be parked out front. House and amentities were exactly as described in the listing. Some of the photos online don't really show how beautiful this place is. Our family of five really enjoyed the three nights we spent there and had plenty of space to enjoy the stay. We did not use the pool as the weather was a bit chilly. All in all, highly recommended!
This house was even more beautiful and well-equipped than described in the photos. We loved the decor and might even copy some of the ideas!! There's so much space to relax and play games, watch shows, eat and enjoy. Our family really loved our time there.
We had an amazing time in this cozy, comfortable house . The pool was so relaxing and the outdoor bar area was a bonus . We loved everything about this house and would definitely book it again !
This place is awesome, loved the porch. Would stay again. Close to beach and shops. The only downfall was the pool heater was broken, but if it did work the Lighthouse management team would not turn it off once it was turned on ($50 a day).
We truly enjoyed our stay here! Everything was crisp and clean. We felt right at home. We 110% recommend this place to everyone. You will not get a cleaner house anywhere! The furniture was comfortable! Having the shower and a toilet outside helped with coming home from the beach and having pool days.
had a very relaxing weekend spent mostly in the pool out back. centrally located, we were just 5 min drive from anywhere we wanted to go. highly recommend!
Will most likely be back, nice place, everything you need do a fun little get away.
LOVE this house. Spacious but still cozy in a beach cottage vibe kind of way. Quiet neighborhood that's close to downtown shops and restaurants, and a short drive to the beach. My husband and I were really impressed by little details like labels on all the light switches and three different firmness levels of pillows (per two people) on the primary bed. The pool area was beautiful and the screen-in side porch was a terrific bonus area. One of our favorite features - The primary shower. The water pressure is amazing. This is our go-to place when we visit St. Simons now.
December 2022
S
M
T
W
T
F
S
01
02
03
04
05
06
07
08
09
10
11

$199

12

$199

13

$199

14

$206

15

$220

16

$255

17

$266

18

$238

19

$245

20

$250

21

$267

22

$293

23

$376

24

$402

25

$381

26

$428

27
28
29
30
31
January 2023
S
M
T
W
T
F
S
01
02

$248

03

$240

04

$244

05

$247

06

$267

07

$281

08

$247

09

$245

10

$242

11

$259

12

$270

13

$313

14

$323

15

$283

16

$258

17

$260

18

$273

19

$293

20

$324

21

$311

22

$261

23

$252

24

$253

25

$274

26

$294

27

$325

28

$329

29

$274

30

$269

31

$259
February 2023
S
M
T
W
T
F
S
01

$335

02

$311

03

$365

04

$365

05

$302

06

$297

07

$282

08

$300

09

$316

10

$350

11

$377

12

$308

13

$308

14

$309

15

$340

16

$375

17

$460

18

$470

19

$402

20

$385

21

$386

22

$416

23

$436

24

$509

25

$483

26

$374

27

$345

28

$331
March 2023
S
M
T
W
T
F
S
01

$373

02

$377

03

$472

04

$430

05

$381

06

$372

07

$377

08

$409

09

$473

10

$499

11

$505

12

$389

13

$377

14

$386

15

$410

16

$470

17

$611

18

$649

19

$396

20

$383

21

$385

22

$409

23

$441

24

$514

25

$468

26

$401

27

$393

28

$396

29

$421

30

$555

31

$474
April 2023
S
M
T
W
T
F
S
01
02
03
04
05
06
07
08
09

$412

10

$433

11

$404

12

$435

13
14
15
16

$421

17

$410

18

$415

19

$444

20

$456

21

$577

22

$645

23

$428

24

$418

25

$422

26

$452

27

$673

28

$774

29

$689

30

$448
May 2023
S
M
T
W
T
F
S
01

$434

02

$439

03

$467

04

$489

05

$799

06

$828

07

$569

08

$457

09

$463

10

$522

11

$567

12

$575

13

$576

14

$499

15

$488

16

$496

17

$531

18

$557

19

$670

20

$676

21

$533

22

$521

23

$528

24

$577

25

$606

26

$736

27

$900

28

$691

29

$644

30

$590

31

$602
June 2023
S
M
T
W
T
F
S
01

$621

02

$688

03

$732

04

$624

05

$595

06

$602

07

$648

08

$782

09

$800

10

$804

11

$607

12

$589

13
14
15
16
17
18
19
20
21
22
23
24
25

$635

26

$621

27

$638

28

$675

29

$713

30

$786
July 2023
S
M
T
W
T
F
S
01

$1142

02

$1158

03

$1212

04

$1169

05

$1194

06

$1046

07

$1146

08

$788

09

$666

10

$646

11

$650

12

$690

13

$712

14

$785

15

$987

16

$781

17

$856

18

$899

19

$940

20

$973

21

$967

22

$781

23

$660

24

$636

25

$639

26

$674

27

$709

28

$763

29

$891

30

$680

31

$617
August 2023
S
M
T
W
T
F
S
01

$616

02

$644

03

$658

04

$715

05

$706

06

$601

07

$578

08

$572

09

$601

10

$623

11

$737

12

$739

13

$659

14

$574

15

$553

16

$593

17

$631

18

$656

19

$604

20

$515

21

$492

22

$490

23

$524

24

$557

25

$636

26

$570

27

$485

28

$470

29

$468

30

$494

31

$511
September 2023
S
M
T
W
T
F
S
01

$635

02

$635

03

$635

04

$469

05

$450

06

$471

07

$485

08

$526

09

$532

10

$443

11

$425

12

$422

13

$443

14

$465

15

$502

16

$493

17

$421

18

$403

19

$396

20

$409

21

$461

22

$500

23

$477

24

$382

25

$366

26

$363

27

$380

28

$390

29

$428

30

$422
October 2023
S
M
T
W
T
F
S
01

$354

02

$345

03

$340

04

$361

05

$370

06

$548

07

$548

08

$548

09

$367

10

$368

11

$385

12

$401

13

$408

14

$388

15

$335

16

$325

17

$327

18

$348

19

$365

20

$397

21

$396

22

$376

23

$375

24

$375

25

$503

26

$907

27
28
29
30
31

$360
November 2023
S
M
T
W
T
F
S
01

$370

02

$381

03

$424

04

$420

05

$363

06

$352

07

$354

08

$375

09

$392

10

$428

11

$426

12

$369

13

$357

14

$359

15

$381

16

$403

17

$442

18

$514

19

$425

20

$414

21

$416

22

$582

23

$582

24

$582

25

$582

26

$363

27

$350

28

$350

29

$370

30

$381
December 2023
S
M
T
W
T
F
S
01

$411

02

$410

03

$354

04

$345

05

$347

06

$364

07

$372

08

$462

09

$454

10

$367

11

$339

12

$346

13

$370

14

$412

15

$493

16

$504

17

$404

18

$388

19

$399

20

$419

21

$441

22

$529

23

$549

24

$573

25

$573

26

$573

27

$573

28

$573

29

$687

30

$684

31

$480