Ava Mae Cottage - 642 Cummings Lane
Ava Mae Cottage was designed for pool side relaxation and comfortable indoor living spaces for your family vacation. Come on in and wind down to the island lifestyle. Home sleeps 6 in bedrooms with 2 additional single sofa beds. This is a 3 bedroom home with additional loft sleeping. Bring your swimsuits and have fun!


THE SPACE

Ava Mae Cottage was designed for pool side relaxation and comfortable indoor living spaces. Big pool with poolside seating options in sun and shade.


Bedrooms:
* Primary Suite: Upstairs, king bed smart TV, adjoining full bathroom with shower and separate water closet.
* Downstairs King Suite: king bed, smart TV, adjoining full bathroom with shower.
* Upstairs Queen: queen bed, smart tv, adjoining bath with combo tub/shower.
* Loft Area: additional sleeping for 2 in sofa chairs that convert to twin beds (see photos).


More about the layout:
From the front door, you will step into the dining area and a half bath on the left. This leads into the open kitchen and family room with a smart TV and plenty of seating for guests.

Heading outdoor to the covered patio area there is a Green Egg for cookouts and outdoor lounging area at the pool house. The pool house has a half bath for your use.

Pool is a generous size of 24ft X 24ft and has an option to heat in the cooler months. (a fee will apply)

Back inside is a laundry room with washer and dryer for your use.

Parking is available for 3-cars max in front of the home. No street parking.

Pool is approximately 24 x 24ft


Located on the south end of the Island, St. Simons Pier Village district serves as the downtown social hub and is a popular destination for shopping, dining and gathering on the pier and nearby lighthouse, playground and picnic areas. Overlooking the ocean and Jekyll Island across the way, you'll find the St. Simons Lighthouse and Museum, Neptune Park with its ocean side pool and facilities, playground, miniature golf course, and an oak shaded picnic area, fishing pier, public library and theater.


MORE INFO

Pets: This is not a pet friendly home.

Heated Pool: This property offers a heated pool option. The cost is $75/night+tax and can be added up to 48 hours before arrival. Let us know if you'd like to heat the pool!

No Smoking: No smoking is allowed in the home, on the porches/patios/decks, or on the property in general.

Minimum Age: Must be 25 + to book, or age 30 + on GAFL weekend (last weekend in October) For GAFL weekend(last weekend in October), guests must be age 30 + or kids with their parents, no student groups.We cannot make exceptions for that weekend.

No Events: No events or parties. No overnight guests beyond the original booking group.

Booking Policy: Unfortunately we can't host reservations that create 1-2 night gaps.

Tax Certificate: #126822
Near the St Simons Island Pier Village
Refrigerator
Microwave
Air Conditioning
Dining Table
Dishes and Utensils
Kitchen
Oven
Full KItchen
Spices
Stove
Toaster
Health Beauty Spa
Marina
Museums
Water Parks
Antiquing
Bird Watching
Boating
Eco Tourism
Gambling
Horseback Riding
Paddle Boating
Shopping
Whale Watching
Wildlife Viewing
Water Sports
Beach
Hospital
Golf
Cycling
DeepSea Fishing
Heating
Essentials. Towels, bed sheets, soap, and toilet paper
Carbon Monoxide Detector
Smoke Detector
Private Entrance
Internet
Free Wifi
Grill
Satellite or Cable
Television
Coffee Maker
Cooking basics. Pots and pans, oil, salt and pepper
Near Ocean
Dryer
Hair Dryer
Linens Provided
Washer
Shampoo
Disinfectant is used when cleaning the property
High-touch surfaces cleaned with disinfectant (like countertops,
Enhanced cleaning practices are used
Contactless check-in and checkout is available
Wifi
Wifi speed (25+ Mbps)
Fenced Yard
Lanai Gazebo Covered
Deck/Patio
bathtub
Outdoor Seating
Heated Pool
Private Pool
Smart TVs
Thank you for submitting your review. It will be processed shortly!
The stay was enjoyable and the house was perfect. Only a few short minutes walk to the pier, beach, shops, and restaurants. The pool (although we had to heat it) was exactly what we needed. Kids enjoyed their time in the pool! The inside of the house was modern, well kept, and everything seemed in working order and updated.
A great place for a family
by Jon
We've been coming to SSI for years now and we loved this place. The house was amazing and everyone loved the pool. the location is great and once we arrived on the island we didn't get in our car again and we were able to bike everywhere we went. We will certainly stay here again.
Delightful Bliss
by Annette
A slice of paradise! The home is absolutely lovely. Light, airy, and refreshing. We enjoyed the beach feel and spent much of our time on the patio. With the french doors open, the view of the patio, pool, and pool house reminded my husband and me of our stay at a cottage in Hawaii. Our family and close friends (total of 8) stayed comfortably in the house. Everyone enjoyed the stay and wished we had booked longer. The master suites are amazing, 1 queen suite and the two chairs in the office landing area open into two twins. The beds are very comfortable and it's tempting to just stay in bed all day. If you enjoy staying in and cooking, the kitchen has everything you need. If you prefer eating out, the local restaurants are great. We will definitely plan to revisit! We had great communication with the owners and it is a pleasure to work with them. You must stay and experience yourself!
All the bells and whistles for a relaxing stay...
by Brandon
What a great house to relax and unwind at! You could tell no expense was spared to make this house a great place to get away, enjoy family time and the island. The rooms were large and comfy, everything worked as it should and it was really clean. The kitchen was well appointed and had all those little things that made for a stress free trip. Also, plenty in linens were available, towels, soaps and the ever more elusive Toilet paper was well stocked! Then there was the pool and outside area...we spent most of our days there. Having the option to heat the pool was a huge plus and made it more comfortable on the cool days/nights. The seating and lounge chairs were perfect for watching the kids play and it was a great private space to soak up some sun/or chill in the shade. This house has set the bar very high for our family vacations!
Awesome property
by Cathy
The house was perfect. We loved how nice and beautifully decorated the house was. It was spacious and perfectly laid out for our family. We took our two 17 yr old daughters and they each brought a friend (17 & 18). The girls enjoyed having their own rooms with their own bathrooms (as did we) - and they enjoyed exploring the island and doing what teens do best- photo shoots! With so much beautiful real estate on St. Simon, they had plenty of perfect spots to choose from. My husband and I enjoyed some bike rides between bouts of rain- and thankfully, we were able to get in a little bit of beach time. The pool at the house was perfect as well. Seating inside and out were ideal. The house was well equipped with most everything one would need, though I do suggest and iron and ironing board and full length mirrored in the bedrooms. Certainly not show stoppers, just icing in the cake. Instructions from the owner were clear from booking right through to check in. Communication was on point, as Zack was available for just the few questions I had along the way. We would stay again without reservation! You will not regret booking this property!
Absolutely fantastic island vacation
by Shanker
Zack's beach house is picture perfect. It was absolutely perfect for our family. We regularly visit SSI but this was our first time staying at this house. Right from checking in an hour before check in time, the experience was perfect. The house is practically brand new - you can still smell the new house smell 🙂 And its a gorgeous house. Nice master suite downstairs - wonderful dining area with benches - which is perfect for a 2.5 year old and a 9.5 year old. The island with bar stools is a perfect gathering spot while we were using the kitchen and the family was watching TV in the living room. The floor plan is open with lots of natural light. Two more bedrooms upstairs make for very comfortable island living. The bedding is super comfortable - the comforters are heavenly. The lighting in the house is also beautifully designed. It takes the beauty of the house to the next level There are tons of games in the drawer under the TV - we spent many long nights playing Connect Four, Uno and Monopoly. Every room and bedroom has a TV. They are all Smart TVs so you can download the Apps / streaming service of your choice. And then there is the back yard / pool area. Its absolutely fantastic. We paid to get the pool heated and it was the best choice for our family. Our kids and us spent many hours in the pool every single day. Zack is extremely responsive and a perfect host. He is literally a text message away. On one evening pool heater stopped working - it was too chilly to get into a unheated pool. I dont know how Zack worked his magic - but the pool service repair guys showed up at 7:30 PM in the evening and fixed it.Amazing hospitality. One suggestion to Zack - they should get some basic stuff stocked up. Salt, sugar, some coffee powder, spices, etc. Just the very basic. I think it will elevate the guest experience. Zack's house and hospitality won our family over. We will definitely be reaching out to him when we want to visit SSI again
Wonderful long weekend getaway
by Rebecca
My family and I absolutely loved our stay. Beautiful home looked just as described. Our children loved the heated pool and smart tvs in both of their rooms. Sweet memories made! We will be back!
Excellent accomodations
by Sara
This property was extremely clean, new and comfortable for two families with kids. The pool was a lifesaver when the beach was too windy. We highly recommended.
Great Location and Pool
by Austin
House was just as advertised and the pool was great ! Kitchen had everything needed for a great stay and the beds were very comfortable and house is very roomy.
Was such an amazing trip. Family had a blast with the pool. So close to the beach and the Pier w a short golf cart ride. Zack was a great host and very responsive. Will definitely be back.
Lovely home and Immaculately clean
by Judy
The immaculately clean home is a peaceful place. Something we especially liked was the lack of personalization. It didnt feel like staying in someone elses home. There was just the right amount of furniture and not cluttered with nic-nacs. The owner Zack was the best! Thank you again Zack, for allowing us to stay.
Best Birthday Weekend
by Tracie
We celebrated family birthdays in this beautiful home. Zach was great to work with and we highly recommend this property!
Great Family Vacation
by Laura
Had a great time. The house was as advertised. Super easy check in process. Great location. Loved it!
Beautiful vacation house!
by Cyndy
The house was great for our family vacation! The rooms were spacious, beds were very comfortable, and everything was very clean. The kids loved the pool and it was great to have access to the pool bathroom. Great location, close to the beach. Would highly recommend!
We didn???t want to leave!
by Whitney
We absolutely loved this home, the pool, the locationit was like a dream. The pool was the selling point for me when I rented the home, I knew we would use it all day everyday and we did! The outdoor areas are perfect for an afternoon nap or dinner after grilling. The rooms are well decorated and so clean. The kitchen had everything we needed for every meal. Zach is a great host and super attentive. We will be coming back here again for sure!!
13 year friendship across state lines. The only place we come to reunite is St Simons!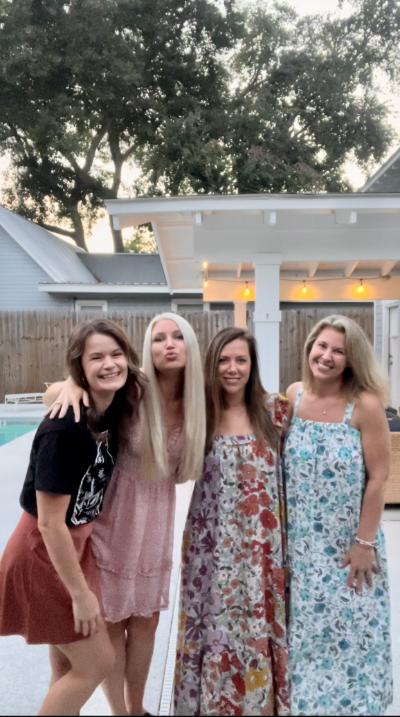 Leah, thanks for sharing your trip with us, great shot!
Short friends & family getaway
by Sean
We had a great time with a group of friends and a couple toddlers. The pool was great and the house was immaculate. The beds were so comfortable! The house is a very short drive from the Massengale Park beach access with a playground for the kids. Also a short drive to bars, restaurants and golf. A great time was had by all.
Just as good as last time 🙂
by Leah L.
13 year friendship across state lines. The only place we come to reunite is St Simons!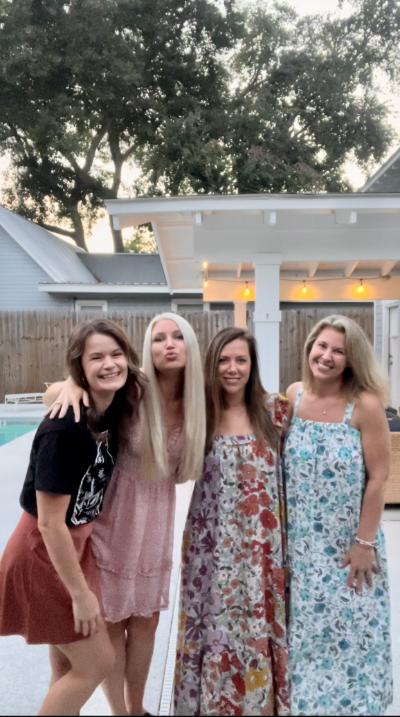 December 2023
S
M
T
W
T
F
S
01
02
03
04
05
06

$199

07

$199

08

$199

09

$199

10

$199

11

$199

12

$199

13

$199

14

$199

15

$228

16

$238

17
18
19

$240

20

$251

21

$269

22

$345

23

$369

24

$344

25

$347

26

$418

27

$498

28

$533

29
30
31
January 2024
S
M
T
W
T
F
S
01
02

$228

03

$228

04

$231

05

$248

06

$254

07

$218

08

$211

09

$213

10

$227

11

$259

12

$321

13

$319

14

$244

15

$229

16

$228

17

$241

18

$252

19

$291

20

$304

21

$249

22

$242

23

$242

24

$258

25

$273

26

$293

27

$301

28

$256

29

$244

30

$236

31

$244
February 2024
S
M
T
W
T
F
S
01

$323

02

$303

03

$319

04

$268

05

$282

06

$282

07

$291

08

$298

09

$327

10

$335

11

$298

12

$278

13

$544

14

$545

15

$546

16

$598

17

$599

18

$600

19

$373

20

$383

21

$424

22

$455

23

$511

24

$460

25

$384

26

$344

27

$379

28

$417

29

$350
March 2024
S
M
T
W
T
F
S
01

$430

02

$395

03

$343

04

$337

05

$347

06

$372

07

$388

08

$494

09

$525

10

$361

11
12
13
14
15
16
17

$369

18

$359

19

$362

20

$387

21

$400

22

$441

23

$433

24

$383

25
26
27
28
29
30
31
April 2024
S
M
T
W
T
F
S
01
02
03
04
05

$471

06

$449

07

$385

08

$375

09

$378

10

$405

11

$470

12

$537

13

$568

14

$392

15

$381

16

$385

17

$412

18

$475

19

$652

20

$565

21

$399

22

$388

23

$392

24

$423

25

$441

26

$537

27

$512

28

$410

29

$399

30

$407
May 2024
S
M
T
W
T
F
S
01

$435

02

$567

03

$733

04

$767

05
06
07
08
09
10
11

$527

12

$456

13

$447

14

$454

15

$490

16

$509

17

$563

18

$560

19

$483

20

$481

21

$489

22

$527

23

$733

24

$834

25

$892

26

$871

27

$680

28

$517

29

$557

30

$580

31

$637
June 2024
S
M
T
W
T
F
S
01

$893

02

$575

03

$584

04

$589

05

$573

06

$596

07

$706

08

$673

09
10
11
12
13
14
15

$716

16

$573

17

$562

18

$741

19

$742

20

$742

21

$692

22

$686

23

$589

24

$577

25

$582

26

$626

27

$677

28

$712

29

$840

30
July 2024
S
M
T
W
T
F
S
01
02
03
04
05
06

$749

07

$617

08

$598

09

$603

10

$645

11

$767

12

$761

13

$999

14

$620

15

$601

16

$607

17

$652

18

$751

19

$801

20

$715

21

$613

22

$597

23

$597

24

$633

25

$686

26

$786

27

$824

28

$691

29

$575

30

$576

31

$621
August 2024
S
M
T
W
T
F
S
01

$650

02

$685

03

$661

04

$570

05

$550

06

$545

07

$579

08

$587

09

$640

10

$612

11

$525

12

$506

13

$501

14

$531

15

$537

16

$653

17

$597

18

$486

19

$477

20

$489

21

$532

22

$615

23

$701

24

$560

25

$462

26

$445

27

$444

28

$474

29

$485

30

$613

31

$613
September 2024
S
M
T
W
T
F
S
01

$613

02

$423

03

$421

04

$449

05

$458

06

$498

07

$510

08

$416

09

$400

10

$400

11

$423

12

$431

13

$469

14

$480

15

$414

16

$403

17

$401

18

$408

19

$426

20

$445

21

$439

22

$377

23

$361

24

$363

25

$363

26

$371

27

$403

28

$387

29

$333

30

$321
October 2024
S
M
T
W
T
F
S
01

$320

02

$345

03

$350

04

$385

05

$391

06

$327

07

$335

08

$332

09

$364

10

$374

11

$584

12

$584

13

$584

14

$301

15

$303

16

$323

17

$332

18

$365

19

$360

20

$313

21

$305

22

$371

23

$461

24

$1113

25
26
27

$506

28

$336

29

$337

30

$471

31

$548
November 2024
S
M
T
W
T
F
S
01

$593

02

$557

03

$357

04

$327

05

$330

06

$352

07

$362

08

$394

09

$391

10

$340

11

$330

12

$333

13

$355

14

$366

15

$401

16

$391

17

$341

18

$331

19

$329

20

$351

21

$372

22

$409

23

$398

24

$337

25

$385

26

$403

27

$610

28

$610

29

$610

30

$610
December 2024
S
M
T
W
T
F
S
01

$327

02

$321

03

$327

04

$343

05

$347

06

$471

07

$450

08

$352

09

$310

10

$313

11

$338

12

$383

13

$474

14

$468

15

$361

16

$344

17

$355

18

$388

19

$408

20

$504

21

$522

22

$389

23

$386

24

$393

25

$424

26

$445

27

$741

28

$744

29

$631

30

$631

31

$631