If you are planning a trip to Jekyll Island, Georgia, then you probably want to take advantage of everything that Jekyll Island beaches have to offer. Brunswick is home to a number of beautiful beaches, and many of them have a boardwalk or a picnic area. You might even spot a sea turtle or two as you stroll along the Atlantic coast, taking advantage of the best beach access points. Regardless of whether you are looking for bike trails, golf courses, or a beautiful beach village or two, this area is home to some of the best beaches on the Atlantic coast.
Many people visiting the area choose to stay on St. Simons Island. St. Simons, or SSI, has a lot of fantastic vacation rentals to choose from, has more amenities on the island, and is less than a 30-minute drive to Jekyll, allowing you to still explore these incredible beaches without a long commute.
Take a look at a few of the beaches on Jekyll Island, one of the Golden Isles off the Georgia coast, that you cannot miss, and make sure you plan your day trip accordingly!
1. Driftwood Beach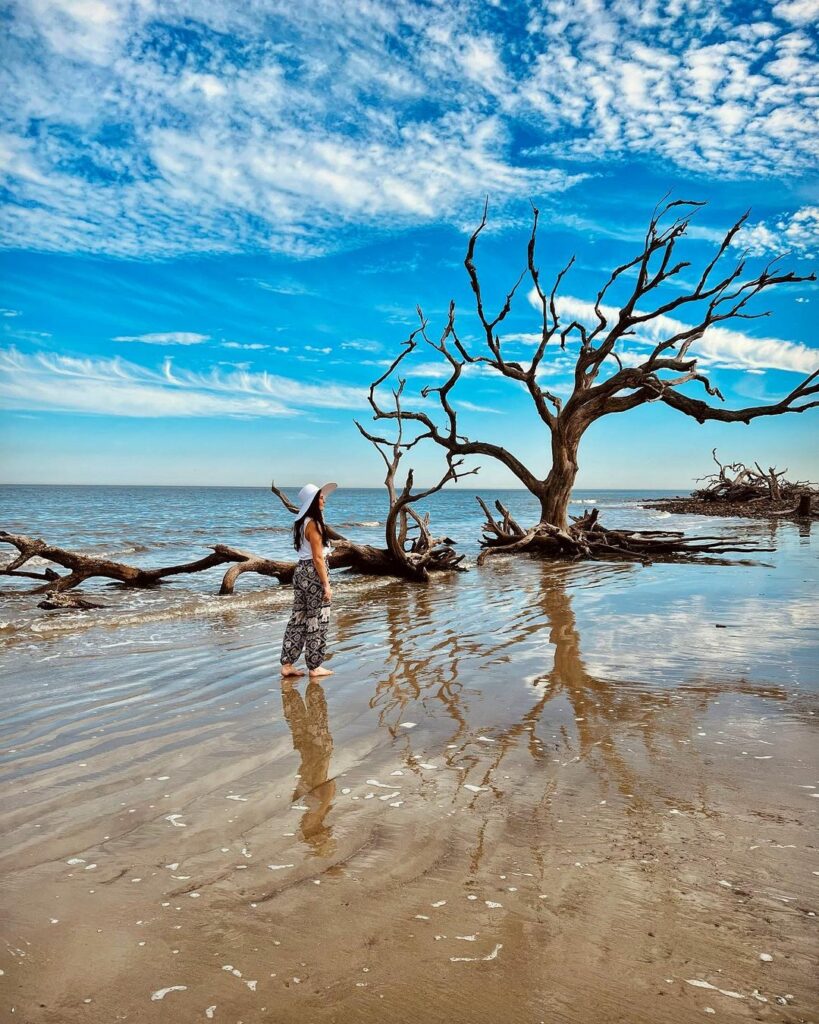 Of course, it is impossible to talk about Jekyll Island, Georgia without mentioning Driftwood Beach. It is one of the most famous beaches on the Atlantic seaboard and is consistently voted as one of the best beaches in the country. Driftwood beach is at the north end of Jekyll.
If you want to experience Driftwood Beach properly, you should try to go during sunset. The sky will explode with a variety of beautiful colors, and the sun will highlight the driftwood beautifully.
Even though it is called Driftwood Beach, it is more than just a bunch of logs. There are enormous trees, including trees with giant roots, strewn across the beach. The beach itself was formed from decades of erosion, creating an amazing scene that you cannot find anywhere else.
If you want to get to this beach, you will need to head to the northern part of the island. There are two separate access points, so you can select the one that works best for you. There is a picnic area as well as a wildlife viewing area, so you should bring a camera with you. This is the place to walk along the beach, snap a few pictures, and go for a swim.
If you are looking for something with more entertainment options, you might want to try a different option, as this beach thrives in natural beauty instead.
2. Glory Beach
If you are looking for the biggest beach on the island, then you may want to check out Glory Beach. It has a tremendous number of sand dunes, and it is the site of a famous movie, called Glory, that focuses on the Civil War.
If you take a look around, you'll spot a soccer complex as well. Don't be alarmed by the trek from the parking lot, as the beach is not that far away. If you continue to walk by the trees, you will eventually see the white sand.
Importantly, no dogs are allowed on this beach, as there are a lot of birds that nest in the area. If you keep your eyes open, you'll spot a variety of beautiful animals that call this beach home.
3. Saint Andrews Beach
This is one of the most popular beaches on Jekyll Island. In particular, you may want to check it out at sunset if you want to get some of the most beautiful pictures you can. This is the perfect place to create family vacation memories that will last forever.
As you walk along the beach, keep your eyes open for dolphins. They frequent the area, and while it might be tough to snap a picture of them, it's a great moment to put down your camera and enjoy the moment live.
You can reach this beach relatively quickly by walking from Jekyll Point. It is the southernmost tip on the island, and you can do some bird watching and shell collecting along the way. Regardless of whether you go during high tide or low tide, this is one of the best beaches to check out.
4. The Clam Creek Picnic Area
Okay, so this is not actually a beach; however, it is so large and popular that it deserves its own section. There is a fun fishing boardwalk, and the sand is nice and soft. This is a good place to travel with children because there is a nice fishing pier you can walk along as you soak in the tranquility of the area.
Keep in mind that the area does smell like fish. Even though you might get used to it after a little while, it can still be bothersome. There are restrooms available, and there are plenty of bike trails in the surrounding region as well.
5. The Wanderer Memory Trail
You might also want to check out The Wanderer Memory Trail. This is a beautiful trail that will share some helpful information about the beach with you. If you want to learn more about the history of Jekyll Island, keep your eyes open for some plaques along the way.
For example, you might learn that the island was the site of one of the last slave ships to arrive in the United States. This is a great way to switch up your vacation a bit and learn more of the history of the island. If you are looking for a historic district, you may want to check out this trail.
6. Corsair Beach Park
You should also take a look at Corsair Beach Park. It isn't the largest beach in the area, and it is often overlooked by residents and visitors alike. Therefore, if you are looking for a quieter journey, this may be the place to go. It is very easy to get to this park from the center of town.
The beach also has an ADA accessible changing room as well as outdoor showers. Therefore, you can rinse off when you are done splashing in the water and playing in the sand.
Keep in mind, parking is hard to find in this area, so you may want to plan accordingly.
7. Oceanview Beach Park
If you are traveling with anyone who has a disability or a serious injury, Oceanview Beach Park is the place to go. There are multiple beach access points that are friendly to people with disabilities, and there are numerous picnic tables and grills.
It is also very easy to get to this beach from the parking lot. You can kick back and relax near the Pavilion area, and then you can go for a swim in the ocean. When you are done, you can rinse off at one of the public showers.
8. Great Dunes Beach Park
Next, you may want to explore Great Dunes Beach Park as well. This park is quite large with 20 acres of space to explore and it is a great location for families with children. There are plenty of play areas, including volleyball courts and bocce ball courts. There are picnic areas where you can kick back and relax as well. This beach has plenty of restrooms and public showers, and the facilities are cleaned regularly.
If you have kids and plan to bring a lot of sand toys and boogie boards, this is the place to go. The beach is not that far from the parking lot and there is always plenty of parking available. You can find this beach near North Beachview Drive and Ben Forson Parkway.
If you are looking for something a bit different, you should also take advantage of bike rentals and the mini-golf course. You can easily spend the entire day here as there are numerous ways to entertain yourself.
9. South Dunes Beach Park
You may also want to check out the South Dunes Beach Park. This beach has an elevated boardwalk that crosses along the sand. You can also stop by the observation deck to take a few pictures of the surrounding area. There is a freshwater pond that houses a lot of animals as well. You may want to see if you can spot any animals bathing in the pond.
This beach also has a great picnic area. There are plenty of tables and grills, and you can take advantage of a number of picnic pavilions. You might also spot a few restrooms, although they might be closed for maintenance or cleaning from time to time.
It is a bit of a hike to get to the beach, so you may not want to bring a lot of stuff. You'll have a difficult time carrying it back to the car at the end of the day. Because of its tough accessibility, this beach is usually quieter than most and a great place to enjoy a relaxing day with only the sound of the waves in your ears.
What Should You Bring With You?
As you plan your trip to this magnificent barrier island on coastal Georgia, you might be wondering what to bring with you. You want to take advantage of natural beauty along your getaway, and you need to make sure you plan accordingly. Most of these peaches will have a parking area you can use, so do not hesitate to throw everything in the car before you head out.
Unlike popular beaches in other states, Jekyll Island isn't known for having umbrella rentals or established places with beach gear for you to use. It's best to bring your own, just in case.
Of course, you should make sure you bring plenty of sunscreen with you. It is easy to get sucked in by the unspoiled beauty on the other side of the public beach access, but you do not want to get sunburned. You should also bring your bathing suit with you. Even if you don't plan on getting in the water, you never know how you will react when you see the beachfront! You should also bring a towel with you as well.
Even though a lot of these places have picnic areas, they do not necessarily have restaurants. You should bring some food and water with you so you do not go hungry or get dehydrated.
Can You Bike To The Beaches?
If you are someone who likes bicycling, you can definitely follow the bike paths to the beaches. The entire island itself is approximately 10 miles long, so you can definitely bike around the entire thing.
On the other hand, you should take your time during the journey. That way, you can take in everything that this area has to offer. You might even want to swing by the Georgia Sea Turtle Center if you have time heading to the beach area from St. Simons Island!
What Are the Tides Like on the Island?
You might be curious about high tide and low tide as you travel to the island. There are two cycles during the day. This means that you will have high tide twice during the day and you will have low tide twice during the day.
In general, the tides are separated by approximately 12 hours. There can be as much of a 10-foot difference between the tides, which means that some of the smaller beaches might be underwater during high tide. If you check the local paper, you can figure out when the tides are coming in and going out.
What About Turtle Safety?
The safety of the sea turtles is a big deal in the local area. There are lots of loggerhead turtles that come to the beach annually. If there are bright lights from cars and flashlights, it can distract the sea turtles, particularly when they are on Driftwood Beach. You do not want to distract the turtles as they lay their eggs. Therefore, listen to the lighting ordinance.
Now you're ready to explore Jekyll Island and see it's beautiful beaches and marshland while staying at a wonderful beach house or condo on the more popular St. Simons Island.