Located just across the water from St. Simons Island lies Jekyll Island, a Golden Isles coastal destination known for its unique history, long stretches of driftwood beaches, and iconic seafood-fueled food scene.
Jekyll Island was once a private island but opened publicly as a state park in 1948. Today, 60% of the island remains undeveloped as protected land. The rest of the island has become a beautiful destination for nature lovers, golf enthusiasts, and travelers who appreciate thriving historic districts.
Just a 30-minute drive from St. Simons Island through Brunswick, Jekyll Island makes for the perfect day trip from your vacation rental. This Georgia coastal town has become home to many locally-owned restaurants celebrating its seasonal produce and culinary talent.
The small island welcomes visitors year-round to enjoy tasty cuisine, magnificent ocean views, and picturesque dining atmospheres. We've compiled a list of the best restaurants on Jekyll Island!
Breakfast Spots on Jekyll Island
Sunrise Grille
Sunrise Grille is a family-owned restaurant in the heart of Jekyll Island that prides itself on celebrating the food and culture that make up the coastal community.
While they offer breakfast, lunch, and dinner, they are known for their delicious breakfast/brunch menu. Visitors can choose from breakfast sandwiches or plates, including Southern classics like biscuits and gravy, steak and eggs, and of course, cheese grits.
Sunrise Grille offers indoor and outdoor dining. The atmosphere is casual and breezy, providing visitors with a true taste of island living.
The Pantry
Address: 371 Riverview Drive, Jekyll Island, GA
Website: The Pantry
Vibe: Casual
Price Point: $
Located inside the Jekyll Island Club Resort, The Pantry is the perfect spot for a casual breakfast in a quaint cafe setting. Visitors can choose outdoor seating on the veranda or sit inside the bakery lined with French bistro-style seating.
Their breakfast menu includes fresh pastries, breakfast sandwiches, smoothies, and more. And, of course, freshly-brewed coffee! This spot is ideal for visitors who want a down-to-earth, easy breakfast in a beautiful setting. The Pantry is open seven days a week.
Pro Tip: If sweets after breakfast are your thing, head to Island Sweets Shoppe right across from The Pantry for some of the most delicious ice creams on the island!
Lunch Spots on Jekyll Island
Love Shack BBQ Shrimp & Yardbird
Address: 11 Main Street, Jekyll Island, GA
Website: jekyllmarket.com
Vibe: Casual
Price Point: $$
Love Shack BBQ Shrimp & Yardbird is located inside Jekyll Market, a gourmet grocery store with multiple local eateries. Nestled in the corner of the grocery store, Love Shack might look unassuming, but it boasts the best BBQ on the island.
Its short and sweet menu offers Southern favorites like slow-cooked BBQ pork, fried shrimp and oysters, and a rotisserie chicken. It's the perfect spot for those wanting a quick, on-the-go lunch without compromising on taste and experience.
Tortuga Jack's
Address: 201 Beachview Drive N, Jekyll Island, GA
Website: tortugajacks.com
Vibe: Casual, lively
Price Point: $$
Tortuga Jack's is your lunch spot if you're looking for the quintessential oceanfront dining experience. Known as the only oceanfront tiki on the Georgia coast, Tortuga Jack's offers delicious Mexican food with a grand view.
The menu is full of Mexican classics like shrimp tacos, enchiladas, and chicken fajitas. And, of course, they are serving up margaritas on the beach daily. Come here for lunch if you want to enjoy ocean views, excellent Mexican food, and a relaxed atmosphere. They even have live music entertainment on the weekends!
Red Bug Motors Pizza
Address: 100 Great Dunes Lane, Jekyll Island, GA
Website: redbugmotorspizza.com
Vibe: Casual
Price Point: $$
An Italian restaurant beloved by locals and visitors alike, Red Bug Motors Pizza is known for its delicious made-from-scratch pizzas and cozy atmosphere. The menu includes tasty appetizers like freshly baked cheese bread and meatballs.
They have indoor and outdoor seating, giving visitors the option for open-air dining while enjoying a fresh slice of pizza for lunch.
Pro Tip: Red Bug Motors Pizza is right across from the miniature golf course on Jekyll Island, the perfect post-lunch activity to enjoy as a family.
Dinner Spots on Jekyll Island
Driftwood Bistro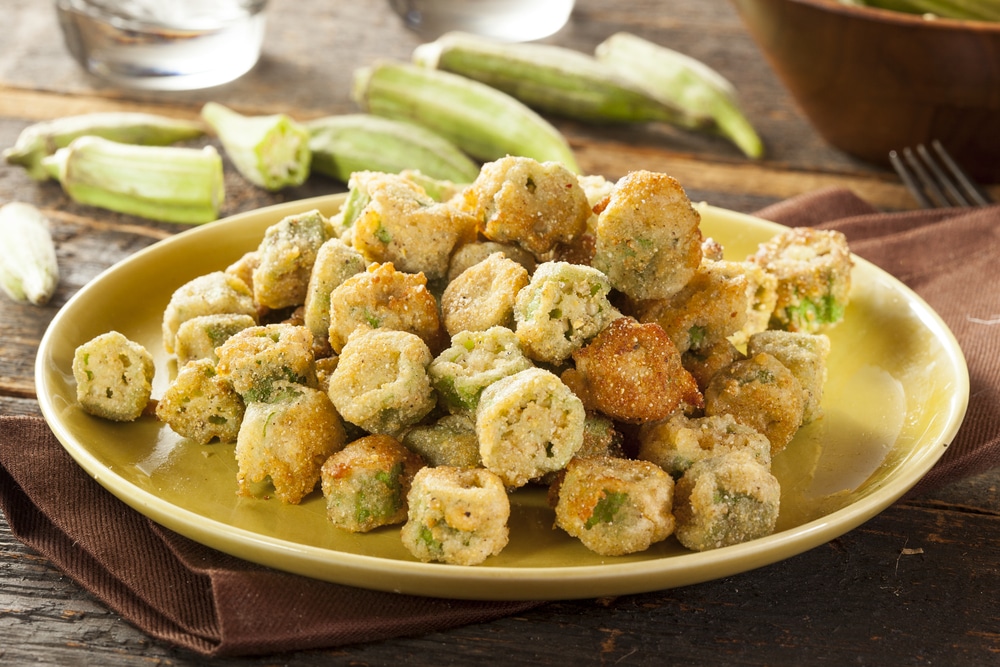 Address: 1175 Beachview Drive N, Jekyll Island, GA
Website: driftwoodbistro.com
Vibe: Casual
Price Point: $$
Minutes from Driftwood Beach, Driftwood Bistro pays homage to the waters surrounding the island by offering a fresh take on low country dining. The seasonal menu frequently rotates to celebrate the flavors of the coast. The menu also boasts of signature sides passed down from family members, like OG's fried okra or Augusta's bread budding. With many gluten-free and vegetarian options, Driftwood Bistro is the perfect spot for all visitors to enjoy.
Don't forget to make your way over to their bar and lounge area before dinner! Their full bar menu features hand-crafted cocktails, craft beers, and an extensive wine list.
Driftwood Bistro is open Tuesday through Saturday, and reservations are recommended.
Beach House Restaurant & Tap Room
Address: 715 Beachview Drive N, Jekyll Island, GA
Website: jibeachhouse.com
Vibe: Beachy, casual
Price Point: $$
Beach House is a locally-owned casual restaurant serving seafood classics and craft beer. The atmosphere is light and breezy, with white and turquoise walls, coastal decor, and a long bar in the center of the room for your group to gather.
They are known for their seasonal craft beer menu, frequently rotating to highlight local Georgia breweries. Located right on the water with access to the beach, Beach House is the picturesque island dinner spot.
Beach House is open daily for breakfast, lunch, and dinner. Reservations for dinner are recommended.
The Wharf
Address: 371 Riverview Dr, Jekyll Island, GA
Website: The Wharf
Vibe: Casual, Lively
Price Point: $$$
If you're looking for a spot to watch the sunset before heading back to St. Simons Island, The Wharf is your place. Located on the historic Jekyll Pier, The Wharf offers pet-friendly outdoor dining, an incredible Southern menu, and weekend live music. The atmosphere is lively whether you choose a spot at the inside bar or the outdoor deck covered in string lights.
A local favorite, The Wharf's menu gives you all your classic Southern dishes with fresh, seasonal ingredients. Visitors can choose between a low country boil, Wild Georgia shrimp platter, or Creole chicken, to name a few.
The Wharf is open daily, and reservations are recommended.
The Reserve Steakhouse
Address: 110 Ocean Way, Jekyll Island, GA
Website: www.thereservejekyllisland.com
Vibe: Fine dining
Price Point: $$$
For a more upscale dining experience, visitors can head to The Reserve Steakhouse inside the Westin Jekyll Island. This modern, oceanfront steakhouse is the perfect spot to celebrate any occasion.
The dinner menu offers elevated Southern favorites such as crab cakes and Oyster Rockefeller. But, of course, the real star on the menu is their steak selection, offering cuts from filet to ribeye to the New York strip.
The Reserve is open daily, and reservations are highly recommended.
Enjoy Your Food Tour of Jekyll Island
We love that our visitors at our beachside vacation rentals can drive just 30 minutes to neighboring Jekyll Island and get a whole different taste of the Georgia coast. Whether your visit involves breakfast, lunch, or dinner (or all three!), you have many tasty restaurant options to try along the way.
With many Jekyll Island restaurants offering a front-row seat to ocean views, visitors can enjoy beach scenery and local cuisine all in one. Don't forget to finish your trip with delicious sweets on the island, from ice cream to frozen yogurt. We hope you enjoy eating your way through the Golden Isles!