Waterscape - 744 Oglethorpe Avenue
This is a very unique house - it was built in 1935 on St Simon's shoreline and would become the home of an honored US Navy Captain for many decades. After a thoughtful renovation, the home one of the most distinctive beachfront cottages on the island.
We've designed the house to be open and comfortable, and to maximize the ocean view. There are a few memoirs of Captain Carmichael's naval career displayed in the home, and the overall décor is bright and open - perfect for a few days at the beach!


THE SPACE

The first floor is designed as a place for your family to enjoy one another and enjoy the beach - an open concept floor plan provides beach views from nearly every spot - back of the house is a wall of windows with views of the beach and Jekyll Island beyond. The beach is view-able from the family room, large chef's kitchen, and dining room.

The second floor features 4 bedrooms to accommodate up to 10 people:

Captain's Quarters: The master bedroom has an ocean front view and features a king bed, flat screen TV, en-suite bath with dual vanities and a walk-in shower.

XO Room: The "executive officer's" room also has ocean views and has a king bed. There's a big flat screen TV.

Lieutenant's Room: The third bedroom also has a king bed, big flat screen TV, and lots of natural light from floor to ceiling windows.

Crew Quarters: The fourth bedroom was designed with the kids in mind. It features a set of bunk beds and two additional twin beds in a loft above (sleeping 4 "crew" in total).

As you will note in our photos, the house backs up directly to the ocean and you can walk through our back yard over the rocks onto the beach sand. Thanks to newer condo construction our ocean views are not panoramic from inside the house, but nonetheless the view is amazing, the sound of the ocean waves is so relaxing, and the aroma of salt air is unmistakable so close to the water's edge. We're also super-convenient to the center of town - the Pier Village - where most shops and restaurants are. We are just a couple of blocks away - an easy stroll for morning coffee, evening dinner or ice cream.

The ocean front pool is like no other option on St Simons. The pool has a shallow and deep end (3.5 feet shallow, 6 feet deep) and the ocean facing side has a sunning deck that hosts 2 beach chairs so you can keep you feet in the pool water and enjoy the sun, views, and sounds of the beach without leaving the back yard. The pool dimensions are 11x32 (26' of length for swimming, 6' for the sun deck). The pool can be heated for a $75/night fee.

Baby gear we provide:
Pack N Play
High Chair (booster style that straps to a chair, has a washable food tray)

Note the fireplace is ornamental only, can't light it.


Located on the south end of the Island, St. Simons Pier Village district serves as the downtown social hub and is a popular destination for shopping, dining and gathering on the pier and nearby lighthouse, playground and picnic areas. Overlooking the ocean and Jekyll Island across the way, you'll find the St. Simons Lighthouse and Museum, Neptune Park with its ocean side pool and facilities, playground, miniature golf course, and an oak shaded picnic area, fishing pier, public library and theater.


MORE INFO

Pets: This home is dog friendly with $200 pet fee, 2 dogs max. Unfortunately we can't host breeds known to insurance carriers as 'vicious', please ask if you're not sure.

Heated Pool: This property offers a heated pool option. The cost is $75/night+tax and can be added up to 48 hours before arrival. Let us know if you'd like to heat the pool!

No Smoking: No smoking is allowed in the home, on the porches/patios/decks, or on the property in general

No Events: No events or parties. No overnight guests beyond the original booking group.

Booking Policy: Unfortunately we can't host reservations that create 1-2 night gaps.

Tax Certificate: #126822
Near the St Simons Island Pier Village
Refrigerator
Microwave
Air Conditioning
Dining Table
Dishes and Utensils
Kitchen
Oven
Full KItchen
Spices
Stove
Toaster
Health Beauty Spa
Marina
Museums
Water Parks
Antiquing
Bird Watching
Boating
Eco Tourism
Gambling
Horseback Riding
Paddle Boating
Shopping
Whale Watching
Wildlife Viewing
Water Sports
Beach
Hospital
Golf
Cycling
DeepSea Fishing
Heating
Essentials. Towels, bed sheets, soap, and toilet paper
Carbon Monoxide Detector
Smoke Detector
Private Entrance
Internet
Free Wifi
Coffee Maker
Cooking basics. Pots and pans, oil, salt and pepper
Near Ocean
Dryer
Hair Dryer
Linens Provided
Washer
Shampoo
Disinfectant is used when cleaning the property
High-touch surfaces cleaned with disinfectant (like countertops,
Enhanced cleaning practices are used
Contactless check-in and checkout is available
Wifi
Wifi speed (25+ Mbps)
Satellite or Cable
Television
Garden
Games
Ice Maker
Waterfront
Deck/Patio
bathtub
Beach Essentials
Outdoor Seating
Blender
Beach Front
Beach View
Heated Pool
Private Pool
Wifi speed (50+ Mbps)
Wifi speed (100+ Mbps)
Travel Crib
High Chair
Ocean Front
Ocean View
Water View
Hosts Larger Dogs
Thank you for submitting your review. It will be processed shortly!
You are never too old for rubber duckies. Even ones that float. And what better way to enjoy one, than at the beach.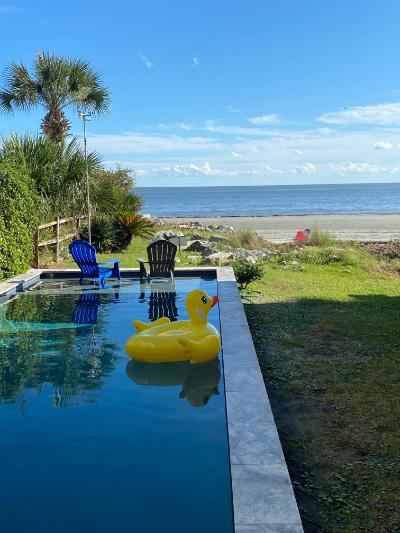 Thanks April. You've got us thinking, don't they all float? Glad you had a great time here at Waterscape!
Ahhhh…Life is great! The pool looking over the beach was enjoyed by our entire extended family and everyone got to relax in the giant float!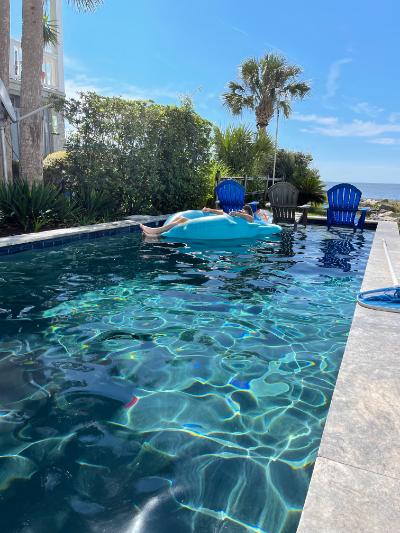 Judy, thanks for sharing this photo from Waterscape!
Perfect house! The pool was more than perfect! The best location, walking distance to the pier and restaurants. The house had everything we could need! We will definitely stay in this home again!
Online Review
by Nicholas
Awesome location. Pool kept a house full of kids busy. Beach is feet away which makes life easy. We enjoyed our stay with two families and would definitely be back. Our first trip to SSI. People are very nice and this place will not disappoint.
Online Review
by Nicholas
Awesome location. Pool kept a house full of kids busy. Beach is feet away which makes life easy. We enjoyed our stay with two families and would definitely be back. Our first trip to SSI. People are very nice and this place will not disappoint.
What a wonderful location on a spectacular island! Walkable to many places. Superb response times to any questions we had by the rental team. Thanks for an amazing week! We will definitely be back.
Online Review
by Camiliza
Beautiful home and great experience. We especially loved the heated pool, the oceanfront views, and the amazing area. The home had a lot of little details that we really enjoyed and we will most definitely be returning.
Online Review
by David & Michele
Great Location!
Very nice location, a wonderful home and just steps away from the beach. The heated (paid amenity) pool is a big plus. About 10/12 minutes from the Pier Village shops and restaurants.
What a gorgeous house with such gorgeous views all day long. Being this close to the ocean is so special and with the added bonus of the pool, it's pure magic. There was a nice part of the day where the pool got full sun, which was a fabulous surprise we weren't expecting from the photos! The kitchen is great and it's so awesome to cook with such great views. We also loved waking up to the view from the master bedroom, which was also very comfortable! Its a great mix of modern and historic - new appliances, finishes, a great heating/cooling system! We were just two, so the house was plenty big for us, but the other bedrooms, especially the kids room, looked so lovely and fun and the house seems very spacious and accommodating for larger groups!
Excellent location
by Vicki
House was clean and decorated beautifully. The location is excellent. The back door opens to the beach, and the Village (populated with restaurants and shops) is a quick 5-10 minute walk. I love the large windows with amazing ocean views. It was perfect for a family as everyone could make their own choice for the day, e.g., spend time on the beach, swim in the pool, walk to the Village, etc. Only point of note is all the properties are closely located on east beach, and this property is between two condos. The pool is lovely with amazing views but it is in view of the neighboring condos. That aspect didn???t bother us and didn???t impact us - but just noting it for future vacationers.
Online Review
by Stephanie
You cannot beat the location of this house. The beach is beautiful and just a few steps out the back door. It was too chilly for a dip in the pool during our visit, but it's a gorgeous pool nearly on the beach. Such a fun set up! Everyday we walked the short walk to the downtown area and had lunch, shopped and chatted with the very friendly locals. We fell in love with St. Simons and look forward to returning. Our two small pups also enjoyed the house and found it comfortable. They absolutely loved exploring the beach and we were so pleasantly surprised to find St. Simons is incredibly dog friendly. Don't hesitate to bring your well-behaved fur babes! As far as the house itself we LOVE a historical home and this place didn't disappoint with the charm and quirks of an old home plus the comfort and convenience of a modern home. The bed was comfy, the water hot, tons of counter space, an incredible six burner gas range, newer washer and dryer, and an A/C that cooled as it should (not a forgone conclusion with rentals!) Our little group of two humans and two pups found ourselves not at all ready to leave. If only we could've squeezed in one more long beach walk…
What a perfect week in St. Simons! The house was perfectly situated for EVERYTHING - 10 minute leisurely stroll to pier village (filled with restaurants, stores, coffee shops), safe neighborhood, plus directly on the beach. The house was spacious, fully renovated, clean, comfortable, and filled with all the modern amenities we look for (Xfinity cable, wifi, ecobee thermostats, washer/dryer, outlets on every nightstand). We were there for a week and totally felt like locals - we absolutely loved it and can't wait to return!
Excellent Stay!
by Jessica
This was our second time staying at this property, and once again, our time there was wonderful! The location of the house is great, with a wonderful beach view and within walking distance of the park, shops, and restaurants. We met up with extended family ranging in age from 7 to 72, and everyone enjoyed the stay. There was plenty of room to spread out but cozy spaces to be together. The living area on the first floor, with its large kitchen and separate sitting areas, was a perfect hang out spot. The well-appointed kitchen made food preparation easy. An added perk was the option to heat the beachfront pool, and the kids really enjoyed getting to swim despite the cool weather. Our first stay at this property was flawless, and when we encountered an extremely minor issue this time around, management handled it immediately and went above and beyond to insure our satisfaction. As repeat guests, we obviously already really like this property, but the exceptional management of this rental far exceeded our expectations and surpassed any high end properties we have stayed at in the past. All of us were sad to leave and are already looking forward to our next stay here!
Wedding weekend was perfect except the weather!
by Keith
Great property - plan to go back during warmer weather!! Fab place
Great GA v FL Weekend
by Jason
The property is very nice and the description is very accurate. We had 8 people in our group and we did not feel cramped for space at all. The kitchen is very spacious and we enjoyed the amenities. The village is a very short walk away and the beach is at your back door.
Fabulous stay. House is so close to everything. We walked everywhere. All the things you need are there from beach towels to beach chairs . The pool is great when you want a break from beach. The beach is so close from back door. Wonderful to watch sunrises to sunsets from the back. Coffee makers , blenders , plenty of kitchen needs. Host was so quick to get repair guy out to fix the stove. Can't wait to book again for next year. Love Saint Simon not too busy and such a cute area . Beach is awesome. Fishing was great too.
I have been visiting SSI my entire life and have found my new favorite vacation rental! Location Location Location. The house is located close to the Village, and, just a few steps from the backdoor, you are on the beach. The pool is an excellent addition, and the sunsets are stunning—prompt response times on questions regarding the house. We look forward to visiting again.
Cute house w/ good ocean views
by Jennifer
Enjoyed this older but remodeled home right on the beach. Lovely view of the ocean and quick step to the beach. Would definitely stay again!
Great house and wonderful location. We really enjoyed it and hope to go back again!
We loved our stay here! Loved being able to wake up and see the beach from the house windows. The house was very cute and cozy. The kitchen was great for cooking and spacious for hanging out. Being on the beach made sunrise and sunset walks easy and fun! The pool was used a lot more than I expected especially with a baby. Very close (walking distance) to restaurants and shopping. We loved the house and our stay.
So nice to be right on the beach with ocean views. Pool was wonderful. House very comfortable.
Fantastic views and location
by Anonymous
Roomy house in prime location. Near pier, light house and playground. Amazing pool and beach views!
Perfect Family Beach Vacation
by Lauren
This property was even better than pictures. It was the perfect family beach vacation house. The decor was so cute! My sons loved the submarine themed loft. The pool was perfect and beach access was SO easy (super important with 3 young kids). The cleaning crew they have is 100 because the house was spotless when we arrived. Walking into town for dinner was such a plus. 5 stars and we plan to return.
Family summer vacation
by RICK
Great location. Pool was amazing.
Family vacation 2021
by Janet
Great house and location to beach was the best to me. Kids also loved the pool. Anytime I had a question, Alex responded to me immediately!
Perfect location in St Simon's
by Lisa
We loved our long weekend celebrating a big birthday in St Simon's. This beautiful home gave everyone space to spread out and space to be together. An easy stroll to shopping and amazing food. The rest of the island was fun to explore on our rental bikes. But best of all, with pool and beach just outside the door we didn't have to travel at all for good chats and afternoon naps. The house and property are exactly as described and one of our all time favorite VRBOs.
Perfect spring break
by Deidra
We had a very relaxing week at the property. It was clean and spacious. The pool was warm and the views and location were unbeatable. We will definitely be coming back again. Restaurants and shopping were within walking distance. We can???t wait to come back!
We loved this beach house. The location is amazing and the pool was a big hit with our kids. We will definitely book again.
This house is simply amazing! Our family of 6 had a great stay over New Year's weekend. We all had plenty of room to spread out when we needed a break from each other. The location is worth every penny. We loved being able to walk out to the beach for our morning coffee and stroll over to the ice cream shop for afternoon treats. Highly recommended!
Great house in convenient location. Beach views are wonderful! I would stay again.
This location of this house and proximity to the beach was amazing. The renovation on the main floor was nicely done. Some of the upstairs bedroom/bathroom doors are old and had bad locks...and it definitely lacks closet space in the master bedroom....but the house was clean and comfortable and you can't beat the view! The added nautical touches are very cool, too— especially in the kid room/loft.. The only thing that would make this house better would be to add a small deck off the master that would also provide a covered area down below to further enjoy the outdoor space and spectacular view. This house has tons of character and proximity to the village was also fantastic. I'll be back!
Great location, close to everything. Walking distance to town. Nice beach. Can't wait to return in October
This is a great house. We had our family of 6 for a quick pre Thanksgiving. This location is quite unique. Walking distance to the village and pier and a perfect beach spot. Even though wedged between two taller buildings it really has a beautiful view of the ocean. It allows easy access to the beach and the pool is amazing. We had it heated and were able to use it quite a bit. The living space is modern, open, and offers great views. The kitchen is huge and super fun to cook in. We loved our stay!
Private pool looking out over the ocean. Perfection
The location of this house is awesome! Beach is in the backyard and we enjoyed quick walks to the pier on beach and scenic walks on the back streets to downtown area (5 min walk to lots of shops/restaurants). We used the pool often and loved that we could see the ocean while swimming in the pool. The downstairs open concept design was really nice to enjoy company. Upstairs rooms were spacious with comfortable pillow top beds. Thanks for a great stay!
Online Review
by Traveler
Very comfortable! The house was very nice and clean but a had a cozy relaxed feel. The kitchen was very spacious which made cooking and clean up super easy. If cooking for a large group, you might want to bring some larger pots and pans, but we had enough for our group of 5.
Online Review
by Traveler
This is a great beach rental for a large group. It's large enough that you have room to spread out. Three bedrooms have comfy king beds, and the 4th bedroom with a cool loft is perfect for kids! The decor is lovely, but the best thing is the location right on the beach! Ryan is a great host, and very responsive. Highly recommend this place!
Online Review
by Traveler
House is located in great area- easy walk to the lighthouse and village shopping/ dining area. Wonderful views and access to the beach from the house. Spacious open floor plan on main level. Great views of the beach along the entire back of the house. Four bedrooms and two baths on second level. Third bathroom located on main level.
Online Review
by Traveler
This house was amazing and the location was even better! Situated just steps from the beach, this spot allows you to enjoy sunrise, sunset, and everything in between. On top of that, the hosts have great beach chairs, umbrellas, and toys available for use by their guests. And the beach is even dog-friendly. The house was perfect with an amazing kitchen and ample space for guests to gather downstairs. The decor is simple but clean and classy. From the upstairs bedrooms on the back side, you have beautiful views of the ocean. We loved the nautical theme and clever finishing a and the beds were extremely comfortable. Having never been to St. Simon's before, we had no idea where we should look for a place. I have to say, we could not have chosen better!
Online Review
by Traveler
Park the car. Walk the beach. Walk to numerous restaurants within 15 minutes. Walk the beach. Did I mention--walk the beach?
Online Review
by Traveler
Nice big house, comfortable and great proximity to the ocean
Online Review
by Traveler
Perfect beach house, steps from the ocean and what felt like your own private beach. And a short walk to the Village with all the restaurants and shops. We were two families with young kids and everything worked out great.
Online Review
by Traveler
It is a great place to stay. I will definitely be back.
Online Review
by Traveler
Ryan's home was absolutely beautiful! Amazing view of the ocean from the entire backside of the house and the windows open so you can hear the waves in the bedrooms or the downstairs. It is only a .4 mile walk to the pier and all of the restaurants and shops. The home was nicely decorated and the kitchen was stocked with many basic necessities making staying in and cooking a breeze. We had a wonderful time on the beach and were thankful with 4 little girls to be so close to the house for naps, etc. This home made our weekend away so perfect!
Online Review
by Traveler
My family loved our stay in this DREAMY beach house on SSI. Best location on the island - you can walk to the pier and village on the beach during low tide - and it has a lot less housing than other parts of the beach so there are not as many people around. The house was clean, neutrally decorated and had just about everything we needed. Every member of my family commented on how comfortable the mattresses were - even the kids! The kids room is perfect for brothers/sisters or cousins vacationing together - and with the added benefit of the loft it seems like there is a 5th bedroom! Communication with Ryan and his team was fantastic. Can't wait to go back!
This home makes COVID-19 Safety measures a breeze. So much space! Beautiful views. Relaxing environment! Close to all our favorite local seafood restaurants! The history behind this home makes it a memorable! Book this home! Your whole family will be happy!
Online Review
by Traveler
This house is amazing. I almost don't want to tell anyone about it coz once the secret is (Website hidden by Airbnb) will probably be booked year round. However, I would be doing the host Ryan a de service if I did not write a review. So here it is: Location: This is one of the few singel standing family homes with beach access, it is a gem. Most appear to be condos or apartments. Great location in relation to other amenities. we did not need a car that much, we just walked to the village, the beach, the pier, etc. The pictures are not clear so in case you are wondering, like I was, this is a beach front home. The Home: a single standing, four bedroom, 3 bath home. Well lit with plenty of sunlight flowing throughout the house. Huge open kitchen with a commercial grade stove/oven, granite counters, etc. Has a living area, a dining area and a space I like to call an oasis, across from the kitchen. It's facing the beach where you can just relax and watch the ocean waves till you fall a sleep...a hidden oasis. The bedrooms have plenty of light, huge beds, very well thought out ( don't have to worry about calling first dibs on the master bedroom, they are all nice). Like I said, I wish I could keep this secret gem to myself...but that would be conduct unbecoming of a good Airbnb member, we are all fellow travelers. Besides, Ryan deserves the highest ratings and recommendations available, or better yet create a special category for this host!
Online Review
by Traveler
This is a great house with a great location! The walk to the beach is seconds, and the views are great! The entire house has been newly renovated, and the renovations are great! Everything felt super clean and the kitchen was so nice! 3 bedrooms have king size beds. One small down-side is that one of the full baths is on the main floor, where all of the bedrooms are upstairs, but that was not a big deal. There is 1 full bathroom in the master bath and 1 other full bathroom in the upstairs hall. It is also really close to the main downtown area... you could walk if you want. Overall we had a great trip and were able to enjoy the beach.
Online Review
by Traveler
This house is unique and we loved it. The location is amazing, on the beach and within blocks of the lighthouse, pier, restaurants, shopping and activities. The beach is lovely and very family friendly. Some of our favorite things about the house are: the very comfortable king size beds (3!!), the loft which looks like a submarine even with the red light and controls, the original round, porthole windows, looking out at the ocean from the sitting room off the kitchen, the amazing decor, the newness of everything-furniture, appliances, paint, etc. Ryan is an amazing host. He answered all of my questions immediately. My highest recommendation. Susan, Seattle
Wonderful week!
by Norman (Wife Sherry)
Waterscape is a dream vacation property for families, especially those with young children. Everyone in our family had a terrific week. The kitchen is absolutely great, and in this time of COVID, we really used it! We look forward to a return visit.
You won't regret staying here!
by Tricia
Our family of 5 loved staying at this beach house! Its clean, organized and in a great location. We walked/rode our bikes everywhere and the dogs loved walking on the beach every day (before 9:00 and after 6:00). Of course, the pool is amazing too, especially enjoying cocktails at night overlooking the beach while the kids had fun swimming. Only thing that would have made this place better was a fence for the dogs but that wouldn't deter us from staying here again. We1ll be back!
We loved the house. Great location, beautiful beach, enjoyed having the pool. House well decorated. Had everything we needed for a get away weekend.
Second time staying at this great house!
by Ronda
Great house with a great location!
Saint Simmons getaway
by sharon
Beautiful views from a wonderful house!
The house, pool, beach access and location were all fantastic! We had a great stay and wished we could have stayed another week! We didn't venture out much due to COVID, but when we did, it was so easy. The location was great. We didn't even need to get out as we used the pool and beach every day, grilled, and used the wonderful kitchen and that was all we needed for a perfect, relaxing vacation. You could pack a swimsuit and nothing else and have a 5 Star vacation. I highly recommend this house and we are already wanting to go back!
Very relaxing place to unwind
Great property, exactly what we wanted!
Online Review
by Traveler
My twin sister and I stayed here with our families. Between our 2 families, we have used Air bnb quite a bit and we all agreed, this was our best stay yet. The open concept design is an exceptional use of space. The "crew room" is amazing - first time we've ever gotten all the kids to sleep in the same room. And the pool is an absolute gem. We had such an amazing time!
Online Review
by Traveler
Great location! We had a group of 10 girls and had plenty of space. We loved the heated pool and watching the sunrise on the beach! Hosts responded to any questions within minutes. Would recommend, and would love to come back again some time.
Online Review
by Traveler
The perfect escape for our family. We loved everything about this beautiful house. Location is better than anywhere we have ever stayed. Total paradise.
Online Review
by Traveler
Fabulous private home on the ocean - private pool, walking distance to museums , restaurants, and shops. Fantastic kitchen - wish I had one like this at home
Online Review
by Traveler
Six guests who appreciated this spacious home. The kitchen space is perfect for cooking, playing games and congregating. The view is gorgeous and adds lovely natural light throughtout the house. The beds and linens were comfortable, too. Perfect location to enjoy the island!
Online Review
by Traveler
Great experience!!!
Online Review
by Traveler
The home was wonderful for our family of 5. It was very clean and a great location on the beach and easy walk to the shop and restaurant area.
Online Review
by Traveler
Great location right on the beach and easy walk to the village. Lots of spacious rooms and super comfy beds!
This house has a private oceanfront pool and direct beach access. It is a short walk to the Village. 2 bedrooms have ocean views. There's no better place to stay on St. Simons Island.
We had 6 adults and 2 kids staying during our visit. We absolutely loved the proximity to the ocean. There is a path that takes you directly to the beach. We used the pool quite a bit as well. We were shocked at how close everything actually was to us and walked to shops, restaurants, ice cream, playground, and the pier almost every night. Great fishing right along the shore. Saw so many dolphins. The house itself was fine- we have stayed in better and worse. A little more pricey than we would have liked. There were little things that we suggested to the owners (clothes baskets, better brooms, dust pan...). The upstairs was a bit warm. However the beds were so very comfortable. Thankfully we had excellent weather and spent all of our time outside. They had everything we needed for the beach (chairs, umbrella, buckets etc for the kids...) The owners got right back with us with any questions we had. Our son left his teddy bear and they mailed it back to us within a week. We are so very thankful!
This house is located in a great area with beach access and walking distance to the village where shops and restaurants are located. The house is lovely and the host called to check on us and had everything we needed. Great experience.
Everything was as promised with their advertisement and we had a wonderful stay!
House was great. Very clean. Loved the pool.
Very well design home with great open floor. The home is great for a large family with a lot of kids, they loved the kids room, heated pool with lights. The view was breathe taking and just feet from the beach. You have to book this house it is a must for your family vacation, all the restaurants are within five minutes walking.
We enjoyed our beach vacation so much! This house was perfect for family and our young children as it was private and close to everything. The beach and pool just out the back door and the conveniences of the village just steps away. The home was rich in character and charm. We look forward to coming back!
Rent this house! You will NOT be disappointed! The house was beautiful, the pool was amazing, the walk to town was so short and easy, and the beach right outside your back door had us spoiled. Overall, the whole experience with this house was wonderful, and we cannot wait to come back! While it may be a little on the expensive side, it is worth every penny, friends!
Easy. Pool was a great addition!
I did not want to leave! I've been coming to SSI since I was a kid (I'm now in my 30s). This was by far the best place I've stayed on the island. It's got to be one of the only single family homes with a private ocean front pool. My kids swam for hours. If they weren't in the pool, they were at the beach a few steps away. You can't beat that. The house is walking distance from the Village/restaurants and also from the King and Prince area restaurants—pretty much an ideal location. Ryan is super attentive and an excellent communicator. Same for the management team. They checked in with us the day after we arrived to see if we needed anything. I hope to stay here every time I make it down to SSI. Thanks for a fabulous stay!
Great location and we loved the new pool. Being wedged between the two houses meant we had shade most of the day with the pool and as a result, we spent most of our time enjoying the view from the pool instead of the sand.
We had a great stay!
by Taejin
The highlight of the house is of course the pool that is right on the beach. It's really something special to watch the ocean while lounging with your feet in the pool. Don't let the presence of the two adjacent condos dissuade you. The view from the house is still great. Shops, restaurants, and the lighthouse and park are less than a 10 minute walk away. The house otherwise is nicely appointed, clean, and the beds are very comfortable. A/C and internet work very well. Our 4-year old insisted we had to come back to this beach house, not any other. We'll be back for sure!
Perfect family getaway.
by Laurie M.
The beach, pool and spacious, well-appointed home made our stay at St. Simons Island just perfect. Highly recommend.
Family Beach Vacation
by Martha S.
The location is fantastic...steps to the beach and close to town. Loved the beautiful pool... perfect for all members of our family! Spacious room for our family, however, the furniture was soiled with wear and tear and could have been cleaned periodically throughout the season. The large kitchen/dining area was very nice. Response by owner and property manager was excellent and they took care of our requests immediately. We loved our first visit to St. Simons Island and hope to return!
Clearly paradise on earth
by Ted P.
We are, were, a faithful OBX family. This place changed that. Saint Simon island was beautiful. The house was everything it looks like and pet friendly to boot. The naval maritime decor was great, very interesting. The kitchen is large and open. The bedrooms big and bright. But the pool, oh the pool. It was the most used thing in the house. See, the ocean water was very warm. Nice to go in but very warm. The salt water pool was cool, so refreshing , we were in it night and day. The beach is huge. At low tide probably 100 yards wide. The sand soft, warm, plentiful and miles of it. The beachfront and town is so different than the OBX. Quiet and not commercialized. The town was a very short walk down tree covered streets. Spanish moss hanging everywhere. It really made you feel like you went 100 years back in time. We are so looking forward to a return trip next year and for years to come. There is so much to do and see that we feel we haven't even scratched the surface.
Great house, great location
by Malene T.
We had a wonderful visit, the beach location was perfect for morning walks. There were only 2 of us but this house would be perfect for a large family. The kitchen was well equipped, beds were comfortable. The location is close to the lighthouse and an easy walk to downtown shops and restaurants. I would highly recommend this cottage and look forward to returning.
Beautiful home with great location
by Debbie C.
Any questions about property was answered in timely manner
Saint Simons Island Beach House
by Bonnie F.
This house was perfect for my family of 4 adults and 2 children under 5. It is within walking distance to restaurants and shopping. The kitchen is large with great appliances. But the best part is the amazing view from all the rear windows. Guests are only steps away from the beach, plus the pool is super nice.
Even better than advertised!
by Anonymous
We had a wonderful stay with our 10 family members of varying ages, from 6 years old to 70. The open concept kitchen is beautiful and extremely functional for multiple people doing prep work with ample seating for meals. The stunning ocean views from the kitchen, sitting area, and two of the bedrooms were our favorite part of the house. Kitchen was well-stocked, and the refrigerator was large enough to accommodate the food for our Thanksgiving meal. Although we were initially concerned about parking our 3 larger vehicles, parking was not a problem at all. We loved walking out the back door to view the sunrise in the morning and the relatively easy walk or very short drive to the park and restaurants. Looking forward to our next visit!
Great place to stay!
by Anne B.
This is a cute home in a great location. However, it could use a few updates--better mattresses in the bunk room, better pillows and towels, and only one clothes hangar could be found in the entire house!
What a Gem!!
by Patrick M.
We had a wonderful stay on St Simons and the beach house. The home is in a great location, it's clean, comfortable and beach is only 40' feet away. We would highly recommend this home as it made our long weekend very special. It's a real gem!!!
Overall, we loved it!
by Donna B.
Great location. Baths needed towel bars.better curtains in master bath.
Great! I would go back anytime!!
by Mary Lynn E.
Beautifully restored. We loved the nautical theme. The kitchen is amazing with white marble and lots of cabinets and counter tops and all the right appliances. View to the ocean was adequate. There was very little beach when the tide was in. Would loved to have had a sitting area outside on beach side of house and a back door. It was within walking distance to the Village which was fun for all. The house was so comfortable and conducive to conversation, that my brother and sisters and I enjoyed sitting around visiting.
744 Oglethorpe Ave
by Marianne S.
Quaint house nice big family room with all the amenities you need for a one or two week stay. Easy access to the beach and five minute walk to the village. 4 bedrroms three full baths one of which is in the master bedroom, the other is a shared bathroom with the other three bedrooms. There is a full loft in one of the bedrooms but there is no airflow in the loft, one full bathroom on the main floor. The kitchen is awesome with a huge convection oven and six burner stove top. Big island and garbage disposal. Pots and pans for most needs were provided as well. Full set of dishes and silverware and a very nice dishwasher also on this property. It was a great time with 8 adults and three children. Althogh there is a house in front of this one the ocean views while you sit in the sitting area are awesome. Everything was very nice and the owner answered all the questions we had prior to,oir visit. Hope you enjoy your sty there as much as we did....
We had an amazing time at your beautiful place. Thank you!!
Updated home and great location
by Patty
The home is updated and lovely with a great location on beach and walking distance to village where restaurants and shops are located
Beautiful home , tastefully renovated , all the comforts of home!
by Tana
Wonderful home just steps from the beach. Tastefully decorated and renovated . Very clean with all the space you will need for a large family or gathering. Updated kitchen and appliances and laundry. Owner has provided a very well stocked kitchen with silverware, dishes, pans etc. and also very nice linens (sheets and towels). Tv's and internet made it a great working vacation too. Great location, short distance to shops, restaurants, St. Simons lighthouse and museum. The sunsets are exceptional and people are so friendly and welcoming. Dog friendly community and beach. Additional public beach access just a few steps away. A new pool and deck were being finished when we were there and I am sure that space will be most enjoyable too! Short distance from Jekyll Island too for a day trip. You wont be disappointed and we cant wait to come back. Very accommodating and great owner to work with as well. Cant wait to schedule another trip ! thank you for the great experience and memories.
New Year's Family Get Together
by Debbie
Overall, this property was great. Great location, comfortable and open living area for our family of 10 to sit together and watch the College Play Off Games along with eating family meals. The views of the water along with the close walking proximity to the Village Pier were absolutely fantastic!! We got to take plenty of pictures of 2 gorgeous sunsets on the beach along with 2 beautiful nights of breathtaking stars with the light at top of the lighthouse beaming out in multiple directions. It was a great family get together to ring in the New Years that was truly relaxing! We cooked together, shared many laughs, played multiple board games, took long walks along the beach, walked to the Pier multiple times and just chilled out in great company!! The only thing our family saw that was just so-so was that for as large as the kitchen is and with so many cabinets, most of them were empty. There was no blender, crock-pot, colander/strainer, meat thermometer, or mixer - all things that we were looking for when we were cooking meals. Also, sometimes the ice maker worked just fine, and other times, it did not work at all. We winded up buying 2 bags of ice for the 4 days that we were there. All in all this property was great for our family - we took away many great memories that were made over the New Year's Holiday weekend! Thank you Ryan for always being available and quick to answer all of our questions before we arrived. Most of ALL - a HUGE THANK YOU for adding a cable package that included ESPN so that we could watch the college play-offs when we arrived on Saturday late afternoon! We would definitely recommend this property to others for a nice, relaxing get away to St. Simon's Island!
Great Home and Wonderful Location!
by Allison
This was the perfect home for a girls getaway weekend! Our group had a great stay! It was our first time to the island and we couldn't be more pleased with the location, beachfront views and great floor plan of the house. Everything was great and the house was beautiful.
Beautifully renovated very restful
by Michael
House has everything you would possibly need or want and then some. Comfortably would sleep 10. Gourmet kitchen for the ones who love to cook. Beautiful view of the ocean. Beautiful pool. Close to everything. Can't wait to go back. It is a lil slice of heaven on St Simons!
House is located in great area- easy walk to the lighthouse and village shopping/ dining area. Wonderful views and access to the beach from the house. Spacious open floor plan on main level. Great views of the beach along the entire back of the house. Four bedrooms and two baths on second level. Third bathroom located on main level.
March 2023

| S | M | T | W | T | F | S |
| --- | --- | --- | --- | --- | --- | --- |
| | | | 01 | 02 | 03 | 04 |
| 05 | 06 | 07 | 08 | 09 | 10 | 11 |
| 12 | 13 | 14 | 15 | 16 | 17 | 18 |
| 19 | 20 | 21 | 22 | 23 | 24 | 25 |
| 26 | 27 | 28 | 29 | 30 | 31 | |
April 2023
S
M
T
W
T
F
S
01
02
03
04
05
06
07

$750

08

$698

09
10
11
12
13
14
15
16
17
18
19
20

$623

21

$721

22

$718

23

$589

24

$580

25

$581

26

$602

27

$656

28

$761

29

$806

30

$651
May 2023
S
M
T
W
T
F
S
01

$634

02

$633

03

$666

04

$771

05

$881

06

$887

07

$683

08

$680

09

$675

10

$702

11

$738

12
13
14

$711

15

$705

16

$698

17

$738

18

$801

19

$1007

20

$1071

21
22
23
24
25
26
27
28
29
30

$793

31

$764
June 2023
S
M
T
W
T
F
S
01

$863

02

$926

03

$1123

04
05
06
07
08
09
10
11
12
13
14
15
16
17
18
19
20
21
22
23
24

$1047

25

$953

26

$966

27

$969

28

$982

29

$1009

30

$1094
July 2023
S
M
T
W
T
F
S
01

$1587

02

$1667

03

$1715

04

$1656

05

$1527

06

$1385

07

$1421

08

$1166

09
10
11
12
13
14
15
16
17
18
19
20
21
22
23
24
25
26
27
28
29
30
31
August 2023
S
M
T
W
T
F
S
01
02
03
04
05

$1107

06

$930

07

$919

08

$897

09

$902

10

$964

11

$1116

12

$1012

13
14
15
16
17
18
19
20
21
22
23
24
25
26

$860

27

$768

28

$765

29

$751

30

$754

31

$788
September 2023
S
M
T
W
T
F
S
01

$1154

02

$1091

03

$1005

04

$741

05

$728

06

$730

07

$745

08

$804

09

$836

10
11
12
13
14
15
16

$788

17

$695

18

$653

19

$641

20

$674

21

$738

22

$758

23

$777

24
25
26
27
28
29
30

$652
October 2023
S
M
T
W
T
F
S
01

$581

02

$577

03

$565

04

$573

05
06
07

$895

08

$896

09

$597

10

$574

11

$587

12

$645

13
14
15
16
17

$549

18

$556

19

$575

20

$628

21

$647

22

$567

23

$564

24

$567

25

$719

26

$1470

27

$1667

28

$1676

29

$884

30

$824

31

$594
November 2023
S
M
T
W
T
F
S
01

$601

02
03
04
05

$613

06

$610

07

$605

08

$613

09

$633

10

$686

11

$692

12

$624

13

$621

14

$616

15

$631

16

$666

17

$729

18

$810

19

$746

20
21
22

$986

23

$987

24

$987

25

$987

26

$636

27

$611

28

$605

29

$613

30

$624
December 2023
S
M
T
W
T
F
S
01

$668

02

$673

03

$606

04

$603

05

$590

06

$597

07

$634

08

$680

09

$676

10

$591

11

$595

12

$597

13

$613

14

$632

15

$703

16

$726

17

$670

18

$686

19

$692

20

$692

21

$725

22

$800

23

$842

24

$971

25

$971

26

$1131

27

$1296

28

$1340

29

$1542

30

$1551

31

$1257
January 2024
S
M
T
W
T
F
S
01

$926

02

$676

03

$581

04

$592

05

$641

06

$646

07

$583

08

$579

09

$574

10

$581

11

$600

12

$650

13

$655

14

$591

15

$587

16

$582

17

$607

18

$610

19

$650

20

$691

21

$591

22

$639

23

$590

24

$597

25

$631

26

$659

27

$688

28

$599

29

$603

30

$621

31

$605
February 2024
S
M
T
W
T
F
S
01

$816

02

$678

03

$693

04

$637

05

$626

06

$617

07

$621

08

$641

09

$715

10

$746

11

$671

12

$635

13

$637

14

$644

15

$669

16

$789

17

$849

18

$754

19

$789

20

$811

21

$833

22

$853

23

$909

24

$908

25

$858

26

$849

27

$803

28

$794

29

$754
March 2024
S
M
T
W
T
F
S
01

$817

02

$832

03

$758

04

$754

05

$755

06

$764

07

$787

08

$852

09

$859

10

$774

11

$781

12

$763

13

$772

14

$823

15

$861

16

$868

17

$782

18

$777

19

$770

20

$780

21

$795

22

$861

23

$868

24

$790

25
26
27
28
29
30

$1305

31

$980