One of the best modes of transportation on St Simons Island is to travel by Golf Cart. There's no need to worry about salt or sand on our vehicle, finding parking at the beach or high fuel costs. Just jump on and enjoy the giant mossy live oaks as you tour the island. It's the most convenient way to scurry the whole crew between restaurants, shops, and all points in-between. If you want a little more workout in your island expedition, perhaps a bike rental would be more your speed? Then again, you may want to leave the driving to the guides on local sightseeing tours.
---
Island Carts
507 Ocean Blvd • (912) 602-2711 • www.islandcarts4rent.com

Island Carts on St. Simons, GA offers Golf Cart & Bike rentals with Hourly, Daily, Weekly and Monthly rates.  Island Carts can also provide transportation for Weddings, a Night on the town, Birthdays, Corporate Travel and much more.
---
Kustom Kart Rental and Repair
(912) 266-6677 • St. Simons Island • www.kustomkartrentalandrepair.com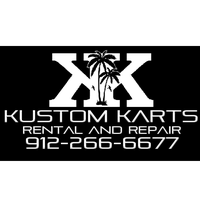 Kustom Kart Rental and Repair is a locally owned family business who specialize in golf cart rental, repair and customization on​​​​​​​​​​​ ​​​St Simons Island. Customise your cart from paint choice to the latest in technology, wheels, bodies, sound systems, and lighting. Free delivery and pick up.
---
High Tide Carts
124 Pier Village Market • (912) 634-2313 • www.hightidecarts.com

High Tide Carts is a locally owned and run business on St. Simons Island Georgia, serving St. Simons Island, Sea Island, Brunswick and Jekyll Island. The owners, the Perez family, worked with local County Commissioners to legalize and provide a set of ordinances that enable street legal golf cart usage on St. Simons and Sea Island.
---
Georgia state laws that went into effect Jan. 2, 2012, states all golf carts must have the following equipment:  
1. A braking system sufficient for the weight and passenger capacity of the vehicle, including parking brake.
2. A reverse warning device functional at all times when the directional control is in reverse.
3. A main power switch. When the switch is in the "off" position, or the key, or other device that activates the switch is removed, the motive power circuit shall be inoperative. If the switch uses a key, it shall be removable only in the "off" position.
4. Head and tail lights, reflex reflectors, safety warning labels, horn, and rear views mirror.
5. Hip restraints (each passenger must have their own seat belt) and handholds. The Georgia State Patrol will require that the transportation of all children be in compliance with the child safety seat and booster seat laws.
THIS LAW DOES NOT AFFECT THE USE OF ALL-TERRAIN VEHICLES ON THE PUBLIC ROADS, WHICH IS STILL STRICTLY PROHIBITED.